bbt'S bOYS DANCE & fITNESS PROGRAM
---
Brighton Ballet Theater /School Of Russian American Ballet presents
Boys Dance and Fitness Program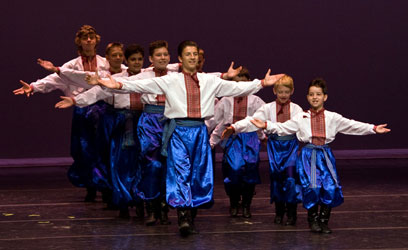 A specially designed program for young dancers ages 8-18.
Sponsored in part by the Brooklyn Community Foundation

Brighton Ballet Theater's Boys Dance and Fitness Program was created specifically to introduce young boys ages 8-18 to different forms of dance. In its third year, this free program currently has a total of 17 boys who have the opportunity to take unlimited classes. These classes promote fitness and provide positive self-esteem and performance opportunities.

Classes include:
* Ballet - Develop your ballet technique, strengthen and point your feet, improve your balance and coordination.
* Character Dance - Learn how to dance character dance combine strong dance technique with acting skills.
* Ballroom & Latin Dance - Partnering dance teaches students grace, coordination, self-discipline and self-confidence as they explore dances like salsa, tango, rumba and more as well as social skill development.
* Hip-Hop - Get ready to get up and move. Learn all of the latest moves utilizing lots of dance technique.
* Break dance - Taking break-dance is a great way to improve your fitness levels. This dance class will leave you with a feeling of exhilaration resulting from a great workout.

Benefits of the boys program include:
- An understanding of how the arts shape the diverse cultures in their society
- Actively engaging in and becoming more knowledgeable about the arts
- Enhanced motivation and greater self-confidence
- Improved school attendance and reduced drop-out rate
- Decreased likelihood of substance abuse
- Exposure to a variety of careers related to the arts
- Fewer behavioral problems in school
- Better social skills (more cooperative attitude with adults and peers)

The scholarships will be for a 12-month period and will include free dance instruction as well as opportunities to spend weekend mornings with BBT Artists. At the end of the year, BBT will showcase its scholarship dancers in two-main stage productions. Brighton Ballet Theater's Boys Dance and Fitness Program is offered all year round.

Brighton Ballet Theater is attempting to address a major need in the lower-income and immigrant neighborhoods of Brighton Beach, Sheepshead Bay, and Coney Island; a lack of cultural and artistic programming for children ages 8-18. As part of its ongoing goal of providing a cultural oasis for the community, BBT places a major emphasis on attracting and educating talented children from disadvantaged families. Since many of these children lack sufficient financial resources to complete a dance education, BBT often subsidizes the cost of their education or even provides outright full-tuition scholarships. Using this approach, BBT has been successful in supporting the early dance careers of a number of talented children with partial or full dance scholarships.


*This Free Program is Sponsored by Generous Support from the Brooklyn Community Foundation

Join Us at our Open House! | Register NOW for the FALL classes!