Brighton Ballet Theater and The School of Russian American Ballet
Presents "The Nutcracker"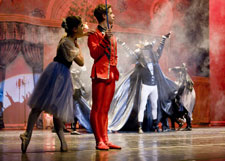 Music by Peter Ilyich Tchaikovsky
Choreography and Libretto by Edouard Kouchnarev
Executive Director Irina Roizin
Saturday, December 8, 2012 at 5 p.m.
Leon M. Goldstein Performing Arts Center at
Kingsborough Community College
2001 Oriental Blvd, Brooklyn, NY 11235
This program is supported in part by Public Funds from The New York City Department of Cultural Affairs
BBT will dance you a story, a story of music and friendship,
about what happened to a young girl named Marie
on a Christmas day long ago
in a land far away…
The Nutcracker
An Original Brighton Ballet Theater Production
Music by Peter Ilyich Tchaikovsky
Artistic Diector and Choreographer: Edouard Kouchnarev
Scenic Design: Charles H. Stewart & Co.
Costume Design: Victor Matsenin, Valeriy Tsymbal
Wardrove Supervisor: Madina Karimova
Sound Technician: Igor Balaban
Music Consultant and Accompanist: Rosalia Gersmash
Light Designer: Staff of Leon M. Goldstein Performing Arts Center
BBT Staff
Executive Director: Irina Roizin
Coordinator: Vladimir Lepisko, LV Agency, Inc.
Financial Advisor: Inna Gilkis, GG Accounting
Ballet Teachers for Advanced Division: Edouard Kouchnarev and Larisa Akinicheva
Grantwriter and Development Coordinator: Tanya Udartseva
Administrative and Communications Support: Pamela Appea
---
The Nutcracker - is an original production with new choreography to a timeless story. Choreographed by Edouard Kouchnarev, a new generation Russian choreographer who has danced and choreographed throughout the world, The Nutcracker is a ballet especially tailored for children.
Synopsis
As homes light up with warm fires and the land is covered with blankets of white snow, a season of fantasy and magic envelopes the air. Children come out and play in the snow knowing they will soon run home to unwrap their presents during this special holiday season. Fritz is having a large birthday party and invites all of his friends. As Fritz's parents are very wealthy, each year Fritz has a grand party and receives many presents. This year his godfather, Dr. Drosselmeyer, the magician, gives Fritz a beautiful Nutcracker doll. But spoiled with all his presents, Fritz doesn't care about the Nutcracker doll and immediately breaks it. All the children go to eat the birthday cake and Fritz leaves the broken Nutcracker doll under the Christmas tree.
In Fritz's home, lives a young maid named Marie, an orphan, who has never been invited to any of Fritz's birthday parties. Every year she hopes to be invited to participate in the holiday festivities with the other kids, but instead she spends her holidays scrubbing and cleaning floors. At night, when Marie is alone she dreams about meeting a Prince one day and marrying him.
While cleaning the ballroom where Fritz had his birthday party, Marie discovers the broken Nutcracker doll and falls in love with him. Marie is distraught that the Nutcracker doll is broken and desperately wants to heal him. Dr. Drosselmeyer, the Magician, helps Marie fix the Nutcracker doll and with his magic the Nutcracker doll transforms into a young Prince. Soon Marie is in a different magical land. The toys and tree that once stood lifeless in the ballroom have come to life and start to dance for Marie in the Ball of Toys. All of sudden, an army of mice storm in and attack the toys, breaking up the ball. Marie helps the Nutcracker win the battle against the Mice by throwing a piece of cheese at the Mouse King. After they win the battle they arrive in the Kingdom of Peace, where dolls and sweets from countries such as Senegal, Morocco, Spain, China, Russia and France come to life and dance. The ballet concludes in The Land of Flowers, where the Nutcracker Prince and Marie, who have grown into young adults, marry during the "Waltz of Flowers."
Choreographer: Edouard Kouchnarev
Eduard Kouchnarev began his dance career at 10 years old, upon acceptance to the Kiev National Choreographic School. His dancing career on the stage began soon after that under the watchful eye of Irina Yakimova, who singled out the young Mr. Kouchnarev for the solo role in the ballet Malchish-Kibalchish, where he played the lead role of a young boy. After studying under ballet giants such as Vladimir Denisenko, Vladimir Shtefan, Valery Kovtun, Irina Bulatova and others, Mr. Kouchnarev joined the Vronski Kiev Classical Ballet at the age of 18. Gaining his first taste of the stage, Mr. Kouchnarev discovered his passion for acting, particularly dancing roles which required a challenging delivery of emotion. After serving in the army, Mr. Kouchnarev continued his dance career as a soloist with the Ukrainian State Theatre of Classical Ballet, where he danced as a soloist in Firebird, Swan Lake, Giselle, Carmen, Petrushka, The Flame of Paris, Nights by the Little Village of Dekanka and Coppelia. Seeking further exposure to other dance forms, Mr. Kouchnarev left Ukraine to study folk, modern and jazz dance in Spain, where he also danced as a soloist at Ballet Ciudad de Barcelona. After some time, Mr. Kouchnarev decided to return to Ukraine and join the Kiev Jewish Theater. It was during a company tour to the United States that Mr. Kouchnarev made the choice to stay in New York City to pursue his dance career on U.S. soil. He joined Brighton Ballet Theater in 1995 as a soloist and teacher, and now serves as the artistic director and the the principal school and company choreographer.
---
Cast and Characters:
Drosselmeier: Simon Shargo
Marie-Princes: Violeta Angelova
The Nutcracker - Prince: Momchil Mladenov
The Nutcracker - Doll: Yunus Faizov
Marie-Girl: Jessica Khvedelidze
Fritz: Denis Kulavski
The Mouse King: Oleg Serban
BBT's Soloists and Guests: Simon Shargo, Natia Rtveliashvili Mangan, Irina Lapteva, Yuliya Golovina, Paulina Margulis, Shannon Grain
BBT's Soloists – Students from the Advanced Division of The School of Russian American Ballet: Sasha Stepnoi, Victoria Graziano, Alika Feldman, Ebru Soylu, Aashika Jikaria.

Kingdom of Toys and Sweets
A grand divertissement
Soldiers: students of BBT/School of Russian American Ballet;
Snowmen: Alika Feldman, Ebru Soylu, Paulina Margulis
African Dance: Soloist - Sasha Stepnoi & students of BBT/School of Russian American Ballet;
Spanish Dance: Soloist - Natia Rtveliashvili Mangan & students of BBT/School of Russian American Ballet;
Indian Dance: Soloist - Aashika Jikaria & Students of BBT/School of Russian American Ballet;
Russian Dance: Soloists: Karlen Manukyan & students of BBT/School of Russian American Ballet: Daniel Gendler,Theodore Perevalov, Liam Kasiko, Nikolay Vartsaba
Chinese Dance: Soloists: Irina Lapteva & students of BBT/School of Russian American Ballet;
French Dance: Soloist: Yuliya Golovina & students of BBT/School of Russian American Ballet;
Fairies: Students of BBT/School of Russian American Ballet
Adagio: Violeta Angelova & Momchil Mladenov
Pink Waltz Soloist: Natia Rtveliashvili Mangan, Irina Lapteva, Yuliya Golovina, Paulina Margulis, Shannon Grain & students of BBT/School of Russian American Ballet
Russian Dolls: Students of BBT/School of Russian American Ballet
Finale - Entire Cast
---
Cast Biographies:
Simon Shargo is a renowned international circus and variety performer. Upon finishing the highly acclaimed Moscow Circus School and learning the art from such International superstars as Marcel Marceau, he has charmed audiences from many countries including Germany, Poland, Finland, and America. Simon is a three-time recipient of the highest award at the International Variety Competition held in Berlin, Helsinki, and Former USSR. He has been working with Brighton Ballet Theater for over eight years.
Violeta Angelova was born in Sofia, Bulgaria. She attended her mother's dance school, another dance school, some sports, and actively performed before graduating with high honors from the National School of Dance Art-Bulgaria and the Vienna State Opera Ballet School in Austria, where she was a scholarship student. Vio has been invited to represent Bulgaria at the Royal Festival of Arts in Jordan, among a number of international ballet events. She has extensively toured the United States, dancing as a guest artist or with a company, and was invited to dance at the International Festival in Edinburgh, Scotland and the Opera and Ballet Festival in St.Petersburg, Russia. Her career has afforded her the opportunity to work with some of the finest professionals in the world. The companies she has performed with include The Vienna State Opera Ballet, Volksoper-Vienna, Ballet Internationale, The New Jersey Ballet, The Suzanne Farrell Ballet, as guest with the National Ballet of Bulgaria, Eglevsky Ballet, Ballet Metropolitan, Ballet Austin, Sarasota Ballet, and others. Her varied repertoire, over sixty ballets, includes title roles and leading roles in storytelling classics - "The Sleeping Beauty", "Giselle", "The Nutcracker", "Don Quixote", "Swan Lake", "La Bayadere", "Coppelia", "Esmeralda", "Cinderella", et al.; the leads in "Agon", "Concerto Barocco", "Valse Fantasie", "La Sonnambula", "Stars and Stripes" and other Balanchine ballets; one act and miniature works, such as "The Dying Swan" by Fokine, as well as classical and modern pieces by contemporary choreographers in Europe and the United States. Also, nine years ago she began teaching and has been on the faculty of the New Jersey School of Ballet, the Ballet Barre and L'Etoile Ballet Academy. She gives private lessons and teaches as a guest at studios across the New York metro area. When not dancing Vio works on other facets of her artistic realization. She is the only Bulgarian - American ballerina.
Momchil Mladenov was born in Bourgas, Bulgaria. He was trained in the Vaganova Method at the National High School of Ballet in Sofia, Bulgaria from 1984 to 1993. In 1997 he earned a Bachelor of Arts from the Ballet Department of the National Academy of Music in Sofia, Bulgaria. From 1993 to 1999 he was a principal dancer with the National Ballet of Bulgaria. Mr. Mladenov's honors and awards include Laureate of "Arabesque" Competition and prize for best performance in P.I. Tchaikovsky's Sleeping Beauty, Perm, Russia in 1998, Laureate of Masako Ohya World Ballet Competition, Osaka, Japan in 1995, prize for Best Partner in "seniors" category at the National Ballet Competition, Dobritsch, Bulgaria, and a nomination for "Crystal Lire", Sofia, Bulgaria. He began his career in the USA in 2000, as a dancer and ballet master at the University of Texas, El Paso. In the spring of 2002, Mr. Mladenov became an assistant to the well-known choreographer Kathryn Posin and danced the lead role in her production of Milwaukee Ballet's "Scheherazade". Momchil Mladenov is in his seventh season as a soloist with The Suzanne Farrell Ballet and in June, 2005 danced at The J .F. Kennedy Center for The Performing Arts as the title character in the revival of George Balanchine "Don Quixote". December, 2005 Mr. Mladenov performed Balanchine's "Divertimento No.15" at The J.F. Kennedy Center Honors. 2007 he became a Principal dancer with The Suzanne Farrell Ballet.
Natia Rtveliashvili Mangan was born in Tbilisi, Democratic Republic of Georgia. She performed with Georgia's National Ballet, world-known dance company "Riverdance". She also works solo, and with other companies including New York based ensemble Barynya, New York Dance show, "Moscow Gypsy Army", "Mazal Tov" Jewish dance show, and other groups.
Yuliya Golovyna graduated from the Kiev Academy Ballet School in 2004. Yuliya danced as a principal dancer with the Crown of Russian Ballet Dance Company in Moscow and as a soloist at the Imperial Russian Ballet Company. As an artist, she is passionate about exploring the relationship between Modern Dance and Classical Ballet. Yuliya is a teaching consultant and performance artist for Brighton Ballet Theater. She currently lives in New York.
Irina Lapteva finished "A.V. Poselskoy" Republican Ballet School in Russia, specialty: Ballet of Arts (Hons). Irina was an artist of Ballet in "DK Sivcev Suorun Omollon" State Theater of Opera and Ballet, Yakutsk. As part of a select dance troupe, Irina has toured to China and all over Russia. As a choreography, Irina has organized and supervised three performances of "D.K. Sivcev Suorun Omollon" State Theater of Opera and Ballet at the Bolshoi Theater. Irina is also a winner and participant of International Ballet Competition in Ukraine and Russia. She has experience in Flash Dancing Dance School and Natalie's Children's Theatre of Historical Costume and Dance in Moscow. She consults for Brighton Ballet Theater as a choreographer and consulting dance teacher.
---
We would like to extend our deepest gratitude to the following individuals & organizations for their ongoing support and friendship:
NYC Department of Cultural Affairs (DCA): Commissioner Kate D. Levine
Department of Youth and Community Development (DYCD)
Bright Future International (BFI)
Brooklyn Community Foundation: Stuart Post
Mayor of New York City: Mike Bloomberg
Brooklyn Borough President: Marty Markowitz
State of New York Assemblyman: Steven Cymbrowitz
NYC Council Member: Domenic Recchia, Jr.
NYC Council Member: Michael Nelson
NY State Assembly member: Alec Brook- Krasny
Kingsborough Community College of the City University of New York:
President Dr. Regina S. Peruggi
Vice President Bill Keller
Dean Saul W. Katz
Mr. John L. Aaron
Mr. Paul Winnick & Leon M. Goldstein Performing Arts Center's Management and Staff
---
Special Thanks to the BBT's Board of Directors
A special thank you to all BBT volunteers, parents and students who have devoted their time, energy and passion to make this performance a success!
About BBT/School of Russian American Ballet:
BBT is dedicated to providing the highest quality dance education for children and adults. It is a well-established cultural center that has been in existence for 25 years with more than 400 students attending each year. BBT's curriculum includes ballet (Russian method), character dance, modern dance, Latin and ballroom dance, folk dance and hip-hop. BBT provides all children with a unique opportunity to perform full-scale ballets, with costumes and scenery.
For more information and a registration appointment, please contact:
BBT/School of Russian American Ballet at Kingsborough:
2001 Oriental Blvd, Building T7, Room: 7211, Brooklyn, NY 11235
Phone: 718-769-9161; E-mail: brightonballet@gmail.com