Mommy and Me Classes for toddlers in Brooklyn, New York
---
Music Appreciation, Dance, and Gymnastics for 2 - 5 years old kids at BBT | The School of Russian American Ballet
SCHEDULE EFFECTIVE from Thursday, September 8, 2016
Jump for Joy! For beginner and intermediate level
MUSIC APPRECIATION Sun. 10:00-10:45 AM - No Single Classes available
MUSIC APPRECIATION Ė B Sun. 12:00-12:45 AM - No Single Classes available
RHYTHMIC-GYM 0 Sat. 10:00-10:45 AM - No Single Classes available
RHYTHMIC - DANCE A Tues. 5:30-6:15 | Thurs. 5:30-6:15 / 2 lessons/week!
MUSIC APPRECIATION Ė A Sun. 11:00-11:45 AM - No Single Classes available
RHYTHMIC-GYM 01 Sat. 11:00-11:45 AM - No Single Classes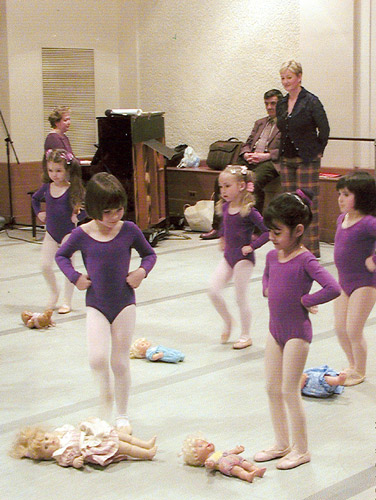 Video: Dance improvisation for Toddlers at the School of Russian American Ballet in Brooklyn, NY
Solo Dance improvisation is a part of the weekly class of Music Appreciations at the BBT/ School of Russian American Ballet in Brooklyn, NY.
---
Music Appreciations class is for beginners in the field of music and dance.
Why?
Letís take an example that everybody understands. Letís pretend that you can speak but have never written anything. You donít know the letters; you donít have eye-hand coordination to write letter properly; you can not distinguish sounds of the spoken words for them to become written words. You can not express yourself in writing - too many problems with the Process of writing.
Itís the same with the music and dance. How can anybody express themselves in a dance if they can not hear rhythm, style, tempo, and dynamic of music, can not coordinate body movement with all this components of the music? Itís difficult, if not impossible.
Music Appreciation class yields the basic knowledge and skills for all components of music and body coordination. Itís designed to train and coordinate the audio perception and kinesthetic reaction to the music, it teaches children self-coordination and self-control and in addition to all that,
It is fun!
All these goals and objectives described above put in a form of music games that go from a simple recognition of the descriptive music and itís kinesthetic response, to musical story-telling.
Parents are very welcome in the class. They can not only see what their children are doing, they are active participants in the process of acquiring all those vital skills. They get involved in activities with their children and share that very emotional, uniting, and dynamic excitement for their own children, as well as relive their own childhood with their children for just a short time each week. This experience of bonding expression is as precious as it is priceless!
The instructor is Julia Portville, an award winning music teacher with 20 years of experience working with pre-school and kindergarten children in Russia and 6 years with The Brighton Ballet School.
Learn, have fun, allow your children to express themselves with you.