BBT is excited to announce Brighton Ballet at Kingsborough Summer Certificate Program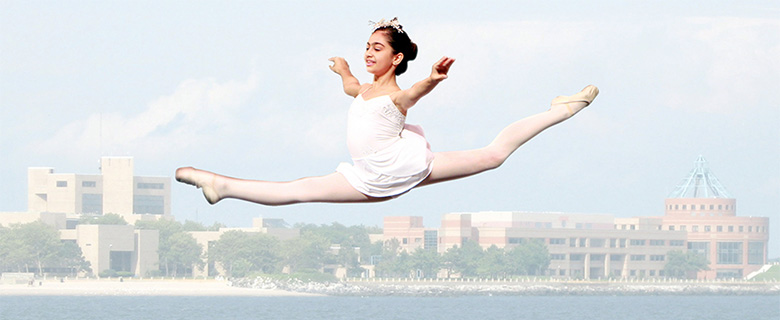 Brighton Ballet at Kingsborough Summer Certificate Program
Monday, July 6 - Friday, July 31, 2015 (4 weeks)
Monday, July 6 - Friday, August 14, 2015 (6 weeks - includes final performance)

Junior Division: 14-17 years old | Senior Division: 18-26 years old | Schedule: 9am-3pm
The first summer intensive in Brooklyn to combine pre-professional ballet and academics, this exciting new program for high school and college-aged students provides dancers with a certificate from Kingsborough Community College upon completion.
Monday through Thursday, students spend three hours daily in dance immersion and two hours in enrichment classes of their choice. International students and other English language learners can improve their speaking, writing, reading and listening skills with KCC's specialized ESL classes. All six-week students prepare a culminating performance, with rehearsals and sightseeing each Friday.
All students must audition for placement. Pre-audition by video or schedule an in-person audition at BBT. Program is limited to 30 students total. Class size averages 4-12 students. Need and merit-based full and partial scholarships may be available.
---
Objectives | Components | Age Groups | Program Dates | Schedule | Auditions | Registration Information | Dress Code & ID Cards | Housing, Transportation, Food
---
This college preparation enrichment dance program is designed for high school and college students from around the world. The visas for international students will be provided by Kingsborough Community College. Theses classes will be taught on the beautiful beachside campus of KCC equipped with professional dance studios auditoriums. Located near the shores in the heart of a diverse neighborhood, students will be given the chance to experience a unique and fruitful summer with their peers. Practical experiences, theater trips, lectures and more make this one of a kind program.
1) To bridge the long overdue gap between public schools and colleges by applying and combining the Common Core and Blue Print for the Arts in Dance.
2) To train dancers and inspire dancers to be ready for the 21st century and beyond.
3) To give them the skills to continue to use dance as an art form to become innovative in their use of many techniques, media and collaboration with other art forms and expressions.
Components
A) Daily dance classes in:
1) Ballet technique
2) Pointe technique / Variations
3) Dance partnering
4) Body Conditioning
5) Repertory workshop
6) Character Dance
7) Contemporary dance / Jazz Dance
8) Modern Dance (Horton Technique, Martha Graham Technique)
B) The art of Choreography
Students will learn how to use choreographic devices in developing thematic dances using their acquired technique from the morning classes.
Age Groups
14-17 years- Intermediate and Advanced
18-26 years- Intermediate and Advanced
Capacity 26 to 30 students per class (5 minimum)
Program Dates
Monday, July 6 - Friday, July 31, 2015 (4 weeks)
Monday, July 6 - Friday, August 14, 2015 (6 weeks - includes final performance)
Group A: International students (6 weeks) 7/06/15 – 8/14/15 (F1 - Visa required)
Group B: Resident students (4 weeks) 7/06/15 – 7/31/15, (6 weeks) 7/06/15 – 8/14/15
Orientation day: Monday, July 6, 2015 from 8:00 AM. Room 7217 (2001 Oriental Blvd., Building T7, 2nd floor)
Schedule
Group A: International Students (6 week program)
Mon-Thurs (9am-3pm) with ESL (2 hours per day)
Friday: Rehearsals
Saturday and Sunday (Free days)
Group B*: Resident Students (4 week and 6 week programs)
Mon-Thurs (9am to 3pm) with Enrichment courses (2 hours per day)
Friday: Rehearsals
*Resident/Non-International Students – Options of 3 week (no performance) or 6 week program (with performance)
Typical Schedule (Differ according to Level, Age Group and Program Option)
Time

---

8:30 - 9:00am

---

9:00 - 10:00am

---

10:00 - 11:00am

---

11:00 - 12:00pm

---

12:00 - 1:00pm

---

1:00 - 2:00pm

---

2:00 - 3:00pm

Monday - Thursday

---

Dance Warm Up (Stretching) - Optional

---

Conditioning

---

Ballet Technique

---

Pointe technique / Variations

---

Lunch

---

KCC Academic Courses

---

KCC Academic Courses

Friday

---

Dance Warm Up (Stretching) - Optional

---

Yoga

---

Modern Dance

---

Rehearsal

---

Lunch

---

Rehearsals

---

Rehearsals
Auditions
Group A: International Students:
Video auditions may be sent directly to info@brightonballet.org
Group B: Resident Students/Non-International students
Audition Dates: Sunday, March 29th & Sunday, April 19th, 2015
4pm – 5:00pm (Ages 14 – 17) at Kingsborough Community College
5:30 – 6:30pm (Ages 18 – 26) at Kingsborough Community College
Registration and Audition Submission Deadline – 30th of May 2015
Registration Information
Group A: International Students (F1–Visa required)
Additional instructions TBA
Group B: Resident Students/Non-International students
After receiving your acceptance letter you can register and pay as follows:
Phone registrations are accepted using Visa, Discover, MasterCard, Monday through Friday from 9:30am-4:30pm. PHONE: 718-368-5050
In-Person registrations: Mon, April xx, 2015 through Friday, June xx, 2015 from 9am-4pm in Room A-205 in the Administration Building, 2nd floor.
Cash, check, money order, debit card, Visa, MasterCard or Discover accepted
Upon acceptance a 50 percent non-refundable deposit is due by May 20th to reserve a spot in the program.
Full tuition is due before the first day of the program, prior to June 22nd.
All checks should be made payable to Kingsborough Community College
Limited merit scholarships are awarded to selected candidates who are /will be pursuing a professional career in Dance.
Tuition Cost
There is a non-refundable $30 application fee
International Students (6 weeks) - $2470
Resident Students/Non-International students (4 weeks) - $2000
Resident Students/Non-International students (6 weeks) - $2620
Tuition covers the cost for dance and enrichment (or ESL) courses only. Please note that costs for chaperones, food, housing, transportation, performance costumes, dance attire and dance shoes are separate and apart from tuition, to be covered at students' own expense, as necessary. Fees for optional excursions and sightseeing are also additional.
A limited number of scholarships may be available for local students who are, or will be, pursuing careers in dance. Please contact us for further details.
Dress Code and ID Cards
Students must have appropriate dance attire and shoes for various styles of classes (if needed, additional materials will be available for purchase at BBT – payment to be made separately upon purchase).
Students are suggested to wear cover ups while being out of class.
IDs and passes will be issued by KCC (private beach passes, facilities, gym, pool, etc.) to accepted students. IDs MUST be worn at all times (shuttle busses, proof of identity).
Students must follow KCC rules while remaining on campus.
Housing, Transportation, Food
We are not responsible for chaperons, lodging, and food. However, suggestions and special food and lodging arrangements as well as tours may be made upon request. More information will be given regarding surrounding areas, transportation to the city, local hotels/dorms, and restaurants during orientation day.
Why Our Summer Certificate Program Is Special
There is no need to travel long distances for dance camp when the best summer training is available right here, on the shores of Manhattan Beach! Ours is the first certificate program for ballet, and the only program that combines dance with academic enrichment, for these two age groups in all of Brooklyn. Our dedicated dance instructors are graduates of the best Russian ballet academies and have extensive professional experience teaching in the US. They want to see you achieve your goals in dance and will help you every step of the way.
Because we employ the Vaganova method, our students learn to pay equal attention to the movements of both their upper bodies and their feet while acquiring a solid understanding of how all movement and sensation is grounded in the core of the body. This method provides detailed explanations for each posture and move, promotes self-discipline and encourages greater awareness of all parts of the body and the surrounding environment. Ultimately this results in a more harmonious and injury-free dance practice.
Furthermore, unlike many dance programs in Manhattan and other parts of the country, our program is open to dancers at all different levels, not only to those who are preparing for careers in dance. The availability of ESL courses also makes our program accessible to recent immigrants and international students, thereby enhancing our multicultural atmosphere.
Being located on a college campus means we can offer a diverse and rich experience, one that includes higher education, not just dance. Our students have access to knowledgeable and caring academic faculty and can make full use of the college fitness center, pool, performing arts center, and shuttle bus, not to mention the thousands of nearby cultural and artistic attractions.
Make the most of your summer with the Brighton Ballet Theater at Kingsborough Summer Certificate Program!